Falcons Forum
Falcons Forum
chat_bubble Dr. Timmy puts Iron back in Iron Man
After suffering extreme heat exhaustion in Sunday's outing against Storm to the point of delirium (thinking he would hit a home run and unable to count past 1) the 134 game iron man streak of the Falcons veteran catcher was in serious jeopardy.
But, the team's young Dr. Timmy prescibing purple Flintstone (Dino) vitamins and duct taping the brain back in place had the catcher ready for Tuesday's game to keep the streak alive at 135 consecutive games.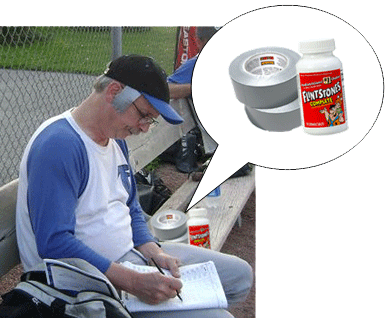 Tuesday also saw the return of Jerry to the lineup after taking several spoonfuls of Elmer's glue and duct taping his injured leg.
Though Dr. Timmy's style has been cited as somewhat controversial he has been effective in keeping the Falcons healthy.
Tags: None
Posted on: Tuesday July 6th, 2010 at 11:00PM