Falcons Forum
Falcons Forum
chat_bubble The Results are In
The results of the month long poll for Whitby's most beloved team, commissioned by the Town and conducted by the Decima-Tone research organization, are in. With over 87,000 votes cast, the Falcons have again been chosen as Whitby's most beloved team.
Following is a breakdown of voting: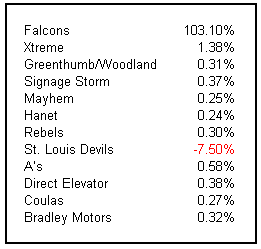 Note Decima-Tone Research is a very reputable organization, using tried and true scientific methods to ensure fairness and accuracy.
Results are accurate to within 100 percentage points 19 times out of 20.
Tags: None
Posted on: Tuesday September 4th, 2012 at 10:34AM