Falcons Forum
Falcons Forum
chat_bubble Falcons Rookie Hazing Allegations Strengthen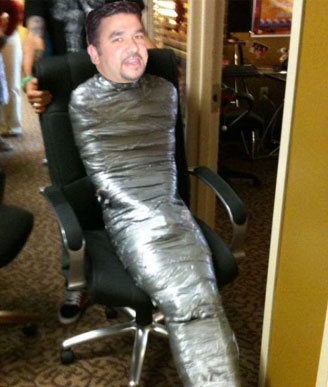 The rookie hazing allegations against the Falcons were only strengthened this morning when this latest picture (of Fo' Shizzle) was found floating around the internet.

Falcons PR rep, Timmy, was steadfast in his response to this latest picture, stating: "This is not a hazing tactic; it's a long standing Falcons tradition that former league President Mike Murphy started in 1988, where any new Falcons player named Mike (or Michael) would have to go through Mikamorphosis. To this day, we still don't know what Murphy's rationale was - likely something to do with his bizzare obsession with duct tape - but it has become an enjoyable Falcons tradition."

With a facetious grin, Timmy closed by saying: "Like Murphy, the hope is Fo' Shizzle will turn into a beautiful butterfly!", which triggered a loud roar of laughter from the crowd.

The investigation continues...


Tags: None
Posted on: Friday May 10th, 2013 at 9:04AM