Falcons Forum
Falcons Forum
chat_bubble Falcons Defensive as Rookie Hazing Evidence Mounts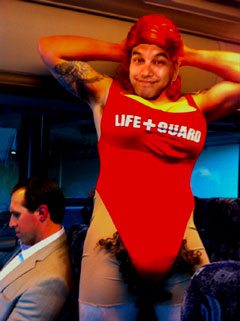 The rookie hazing allegations against the Falcons gained momentum again this morning with yet another picture (of Our only friend) that was found floating around the internet yesterday.

At this morning's press conference, an obviously irritated Falcons PR rep (Timmy) opened with: "Don't you guys have more severe stories to investigate?!? Like the 3 HRs hit in only 2 games by (Xtreme's) Andrew Ashbee?!? Shouldn't that team be investigated for violating the league's policy on performance enhancement drugs?!? I think a better use of your time would be to get that guy to pee in a cup!!"

His statements left a deafening silence across the crowd. After what seemed to be an eternity of dead air, Timmy finally broke the awkward silence by apologizing for his tone, saying: "Sorry folks, I'm still a little grumpy today because I missed out on getting my monthly brazilian done with Junior on Tuesday!"

Timmy closed the press conference by saying: "Anyway, I assure you all: the Falcons had nothing to do with this! Our only friend's brother-in-law (Rookie #1) has confirmed the picture was taken during Our only friend's stag party."

Even with the Falcons official stance on the controversial picture, there was a sense of skepticism amongst investigators, certainly due to the coincidental timing of the picture being released.

Lead investigator, Jimmy, confirmed that the investigation would continue.

Tags: None
Posted on: Thursday May 16th, 2013 at 9:12AM