Falcons Forum
Falcons Forum
chat_bubble The Royal Baby Announcement
Absent from Sunday night's doubleheader, reports have confirmed that the Legend (Jerry Tone) was summoned late Sunday afternoon by the Queen to formerly announce the anticipated birth of the Duke and Duchess of Cambridge's first born son yesterday: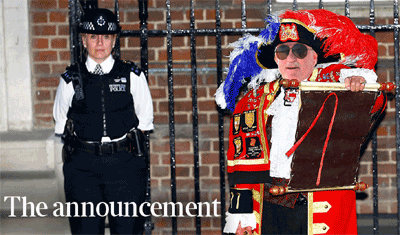 Asked why she wanted The Legend to make the announcement, the Queen was quoted as saying: "I was 99.9% sure the baby was going to be a boy. And since news of the pregnancy broke, I've been persistently trying to persuade William and Kate to name a royal baby boy 'Jerry', for bloody well documented legendary reasons! So I thought the birth announcement by The Legend himself would only help my case."

Since learning of The Legend's whereabouts, the team has since sent Falcons1 to fly him back home in time for tonight's game vs. Direct Elevator.
Tags: None
Posted on: Tuesday July 23rd, 2013 at 10:01AM