Falcons Forum
Falcons Forum
chat_bubble Falcons Award Awards
The votes are in...
The Falcons have decided which of their teammates is the MOST valuable, and the MOST sportsmanlike for the 2015 season. Obviously, we're all valuable and we're all sportsmanlike, but these dudes represent the very dictionary definitions of these two words.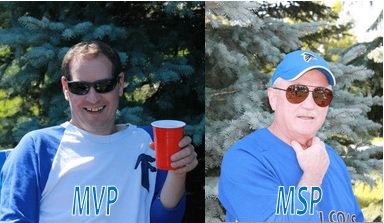 MVP - Barry Thompson
Barry (Curtis' Dad) led the Falcons offensively in home runs (20), walks (14), strike outs (3), total bases (160), OBP (.694), slugging percentage (1.290) and runs batted in (79). Barry led the Falcons through the playoffs with 4 home runs, 10 RBI, and an OPS of 2.846. He also contributed in more meaningful ways (read: financially), with uniforms for the un-uniformed ($), gitch that keeps your nut sack separate from your taint ($, invaluable for tournament play), and covering the excess required to pay for the food after we flunked out of the playoffs ($$$).
MSP - Jerry Tone
Jerry (The Legend) led the Falcons in least feathers ruffled, and all the other intangible things that make one "sportsmanlike". Whatever that is. Jerry has been a Falcon/Hawk since the Mulroney administration, and as far as I can tell, this is his first MSP award. 25 years of playing and now it's all worth it!