Falcons Forum
Falcons Forum
chat_bubble Chicken Little Looks at YOUR BALLS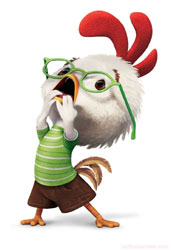 The WMSPL quietly passed a rule this off-season that may have meaningful impact on the game we love. By a narrow 7-6 vote, a combination of the league executive and team representatives voted to change the official softball of the WMSPL from the Worth Grey Dot to the Worth Hot Dot.
Visually, the balls are nearly identical. Only the logos are changed. As any mom will tell you, it's what's inside that counts. The Worth Grey Dot used by the WMSPL was what those who talk like this called a "40/375". The 40 represents the .40 COR (
Coefficient of restitution
) of that ball. Simply put, when this ball is fired from an air cannon at an immovable object (a concrete wall, for example), it returns at 40% of the speed at which it was launched. The 375 means that if put into a press, it would required 375 lbs. of pressure to compress the ball by 1/4". The Worth Hot Dot that our league will be using this season is a "52/275". This means that it rebounds from the proverbial concrete wall at 52% of it's impact speed, and requires only 275 lbs. of pressure to compress it by 1/4".
It doesn't take a high school graduate to tell you that .52 is 30% higher than .40. This means that, all other factors being equal, ie. pitch speed (won't change), the bats we use (will only become more advanced), and swing speed (may be reduced slightly due to the players being a year older, but not noticeably), the ball will be coming off the bat 30% faster than last year. To put it another way, players (the closest to the batter being the pitcher), will have 30% less time to react to a ball being hit.
Several reasons were given at the February league meeting for changing to this new ball. One of the reasons given was that this ball was used on an experimental basis in the President's Tournament last June, and the home-runs-that-counted per game rate was virtually unchanged from that of the Grey Dot used in the regular season. This was backed up by statistical evidence (the President kept track). Home runs over the +2 rule were counted during the tournament, but not by the league during the regular season. To be clear, total number of balls hit over the fence are not comparable, due to lack of statistics.
Another reason given was that this is a so-called "flight-restricted ball". I honestly don't know how the science on this works. Maybe it has something to do with the compression, or maybe this ball is lighter so it doesn't carry as far? Raised stitching on the seams? Anyway, the consensus around the table was that the league's power hitters will be able to still hit home runs, but they won't go as far. Those that lucked their way into a round-tripper or two last season will be SOL this year, if this tidbit proves to be true.
It was also mentioned that the Hot Dot is more consistent in changing weather conditions. The Grey Dot performs better in colder weather, then doesn't travel as far or as fast when it gets hot out. As you can see from the chart below (obtained from Worth's catalogue), the Hot Dot actually performs better as the weather gets warmer. So liners in July and August will be in your grill even faster than they were in May.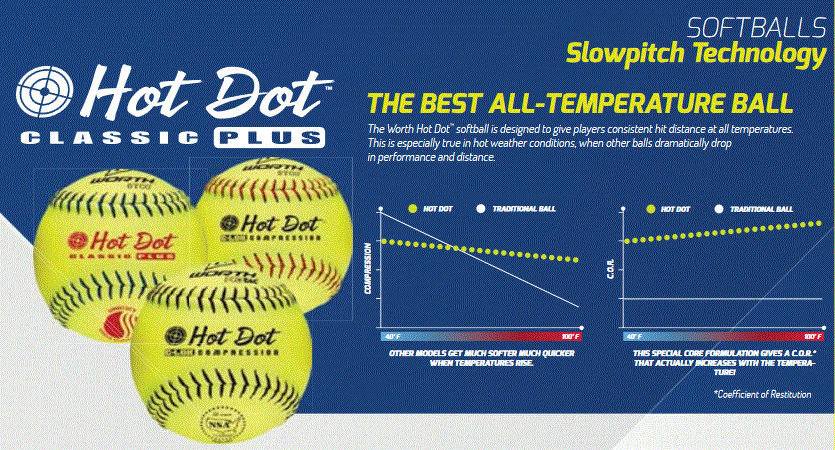 What wasn't mentioned in the meeting is a fact-backed reason to change the ball in the first place. Obviously, it's to limit home runs (or at least how far they go). Todd had the most noble of all reasons to change, and that was to protect the kids playing in the playground beyond the left field fence on K1. To date, no child has been struck by a home run hit in our league. If the rumours regarding flight-restriction indeed prove true, that record will continue. At least two incidences have occurred in the last couple years resulting in injury to a WMSPL player from a line drive.
Our own Dinner
was struck mere inches from his tender bits by a line drive while standing on third base. His quick reactions may have prevented further catastrophe. In the other, a player for Xtreme was struck in the back of the head by a line drive while standing on first base. In this case, an ambulance and EMS had to attend the playing field.
This season, the balls will be coming off the bat 30% faster.
Once a team goes up +2 in home runs this season, all hitters will have to decide whether to swing for a line drive, or to swing with loft and risk being called out if the ball goes over the fence. When this subject was broached in discussion of rules changes
here
, everyone's favourite commenter, Anonymous, made his feelings known:
"As for the safety part, there are a number of protective devices available to baseball players. Mouth guards, jocks/cups, shin pads, knee pads, face cages and even batting helmets for example. Each of these items are in use by some players in this league. It is up to the individual to decide what he needs to wear to feel "safe" in any situation."
Have a safe season, everyone.