Falcons Forum
Falcons Forum
chat_bubble 2018 Falcons' Season Recap, Team Awards
The 2018 WMSPL Vice President's Division champions are the Falcons, following a trend that dates back more than a decade of the VP Division winner having just been relegated from the President's Division that very season. The Falcons were in the VP division for a good time, not a long time, and will do battle up top in 2019.
The Falcons will miss Leon, who sadly had to retire mid-season due to injury. However, the Falcons' loss is my own gain, because he's developed into a fantastic scorekeeper! The scorecard is almost always a dog's breakfast if it's left up to the players on the bench to keep score. Several occasional scorekeepers (Junior, Murph, Mrs SLF, Abby SLF) do great jobs, but not with the regularity of Leon, who has attended nearly every game since quitting to make my job of uploading the precious, precious stats to the website so easy.
We won 21 games, only a 4-game improvement from 2018 but it was enough to win the division. It was also enough to garner a top seed in the playoffs, so we'll soon see if that helps. With 641 runs scored, that's the second most we've scored since our best year of 2014 when we scored over 700.
If you're interested in intrigue, come on over to K1 on Saturday morning at 9am to see Hanet at Falcons. I'm sure the drama from last week hasn't subsided at all.
AWARDS SECTION
Here are your Falcons Regular Season statistical leaders:
ATTENDANCE AWARD:
Million Dollar Bill wins the perfect attendance award, as he should: he brings the beer. The Falcons haven't had a perfect attendee since Teets in 2014, so Bill deserves to be commended. In 2018, the Falcons had nine players who played in 30+ games, the most since 2013 when 10 Falcons did it.
RUNS SCORED:
Stevie B ran away (HA!) with this, scoring 73, nearly 20 more than Hobo in second place.
1B:
Pikachu hit 65 singles, and about 15 of them would have been doubles.
2B:
Stevie B again, beating out perennial doubles champion Chequebook, 21-20.
3B:
Stevie B tied the team record with 9 triples this season, and SLF is SHAKING in anger.
HR:
Levi! 12 dongs for he who wears jeans and spike-less shoes to play.
BB:
Dr J, Mr Patience, walked 8 times this season.
TOTAL BASES:
There's Stevie B again, riding a wave of doubles and triples to 136 total bases.
BATTING AVERAGE:
Stevie B. Surprised? You shouldn't be. Dude's a stud. Steve batted .674 this season
ON BASE PERCENTAGE:
Knock-Knock, who's there? Stevie B! OBP of .674 (95 ABs are required to qualify for the batting title). As a team, the Falcons had a .649 OBP, the highest for the team on record.
SLUGGING PERCENTAGE:
Chequebook won a tight race here, slugging 1.065
ON BASE + SLUGGING (OPS):
Chequebook: 1.714; Stevie B: 1.681
RUNS BATTED IN:
Levi, who is clutch, squeaked this one out over Teets, 68-67. Levi also had 71 hits and narrowly missed out on having more ribbies than times on base.
There's a legitimate argument to be had here over who is the Falcons Rookie Of The Year, but suffice it to say: We're very fortunate to have both Steve (34 games played) and Colin (36 GP) on the team. Who says the WMSPL draft is a crap-shoot? Our last three draft picks have been studs! If only we could say the same for Chad, Jon and Matt! (LOL)
ANYTHING CAN HAPPEN IN THE PLAYOFFS
Storm has won this tournament two straight years, and no one should bet against them getting the three-peat. But that doesn't mean it isn't wide open. The A's were in first place for most of the season, and ripped of an impressive unbeaten streak in the middle. Broadway can beat anyone. Hanet can beat anyone. A few players contracting beginning-of-the-school-year colds can decimate any team. It's also not hard to fathom the VP division champs winning it, it's happened several times before. Will weather play a factor?
FALCONS' MOST VALUABLE PLAYER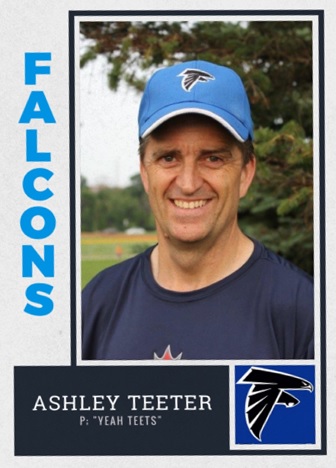 After years of putting blood and sweat into making sure the team runs smoothly, Ash finally gets his due as team MVP for 2018. Ash slashed .580/.583/.924, finished second on the team in games played (including the last 24 straight), triples (!), RBI and third in extra base hits. He's deserved it for years, and now the title is his.
FALCONS' MOST SPORTSMANLIKE PLAYER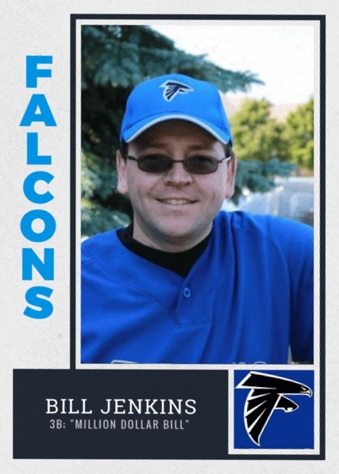 How can you vote against the guy who shows up for every game, and brings the post-game refreshments? Well, half the team found a way to do so, in a VERY close Most Sportsmanlike Player vote. But Bill's beer bringing bravado put him over the top. This is his second time winning MSP, the first being in 2013.