Falcons Forum
Falcons Forum
assignment Falcons win 4 - 3 over Coulas
Sunday 8:00PM June 28th, 2009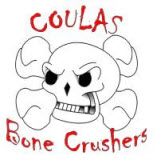 In a defensive battle against the Coulas Bone Crushers the Falcons managed only 9 singles, 3 walks and a lone homerun against a stingy Coulas defense. However, the Bone Crushers managed only 9 singles and a lone homerun against an equally stingy Falcon defense.
In the top of the third, Bill walked and advanced to third on singles by Mike and Jerry before Cas hit a sacrifice fly to open the scoring.
In the bottom of the sixth a three run homer put Coulas ahead by a score of 3 to 1. Then in the top of the seventh singles by Junior and Digger set the table for a Barry homerun, putting Falcons back in front. Coulas sent 5 batters to the plate in the bottom of the seventh but could not come up with the tying run.
Boxscore:
| Inning | �1� | �2� | �3� | �4� | �5� | �6� | �7� | Final |
| --- | --- | --- | --- | --- | --- | --- | --- | --- |
| Falcons | 0 | 0 | 1 | 0 | 0 | 0 | 3 | 4 |
| Coulas | 0 | 0 | 0 | 0 | 0 | 3 | 0 | 3 |
Boxscore:
| Team | 1 | 2 | 3 | 4 | 5 | 6 | 7 | Final |
| --- | --- | --- | --- | --- | --- | --- | --- | --- |
| Falcons | | | | | | | | 4 |
| Coulas Bone Crushers | | | | | | | | 3 |
Tags: None
Posted on: Sunday June 28th, 2009 at 8:00PM