Falcons Forum
Falcons Forum
assignment Another Close One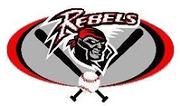 It was an exciting game to witness as shown by a record number of Falcon fans turning out.. Most of which were Ash's family. Too bad he wasn't able to display any offense for them.

The Falcons jumped out to an early lead with Barry's 3 run HR that still hasn't landed. The bats then went sleepy until the 6th when the bottom of the order came up big to put the Falcons up by 1 going into the 7th.

The Rebels managed to tie it in the top of the 7th. A lead off double by Cas promptly followed by a game winning RBI double by Sean ended this one.

Other highlights included the in-game pizza contributions by Jerry (K'd) and Dennis (FK'd). These were enjoyed more so following the game.

We'd also like to report that Dennis seems okay following his near fatal hit by a Louis Strumenikovski batted ball. Dennis is no longer seeing double but he will be checked by team doctor, Dr. Timmy in the morning. He is expected to be cleared for play but we'll have to wait for Dr. Timmy's decision.
Boxscore:
| Team | 1 | 2 | 3 | 4 | 5 | 6 | 7 | Final |
| --- | --- | --- | --- | --- | --- | --- | --- | --- |
| Rebels | 1 | 1 | 2 | 1 | 0 | 0 | 1 | 6 |
| Falcons | 3 | 0 | 0 | 0 | 0 | 3 | 1 | 7 |
Tags: None
Posted on: Sunday June 12th, 2011 at 6:30PM