Falcons Forum
Falcons Forum
assignment Rebels Force a Tie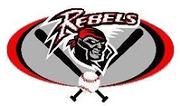 With both teams missing big sticks in their lineups and players out of position, the Falcons saw veteran pitcher and coach, Ash, take Barry's spot in left-center to man the outfield.

To his credit, after getting a few innings under his belt, he performed admirably making a few tough catches in a darkening sky and a clutch inning ending double play throw to 2nd that picked off a runner in disbelief of his shoe-string catch. Seems the extra running sparked his bat as he also contributed at the plate, cashing in 4 RBIs.

With the big sticks missing, Bill seized the opportunity going a solid 4 for 5 on the game, banging in 3 himself.

In the end, as is often the case with this rival, the game went down to the wire. Down by 6 in the bottom of the 7th, the Rebels strung some solid hits together scoring several runs. With all available players on the field (a rare occurrence for the team), and nobody scoring, the Falcons had 2 outs and the perceived tying runner in scoring position. The next hit was a solid shot to center field that saw the game end on a dramatic balloon throw from center field that nailed the runner at home by at least a step.

The team celebrated with excitement (some may have even hugged) thinking they had just preserved the win on a dramatic game ending play. But when the runs were tallied, the Falcons learned the disappointing news: the out at the plate was the go ahead runner. Making for a 15-15 tie.

Despite blowing the win, the exciting finish seem to spark the team as they appeared pumped for the 2nd game of their double header with the A's.
Boxscore:
| Team | 1 | 2 | 3 | 4 | 5 | 6 | 7 | Final |
| --- | --- | --- | --- | --- | --- | --- | --- | --- |
| Falcons | 5 | 0 | 1 | 4 | 1 | 1 | 3 | 15 |
| Rebels | 1 | 4 | 4 | 0 | 0 | 0 | 6 | 15 |
Tags: None
Posted on: Sunday June 26th, 2011 at 8:00PM