Falcons Forum
Falcons Forum
assignment A Big Inning Goes Our Way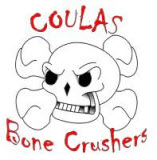 What started out to be a sleepy, dull, low scoring game suddenly changed in the bottom of the 4th when the Falcons sent the entire order (and then some) to the plate, scoring 10 runs in the inning.

With solid defense and sound pitching, the always dangerous Coulas was held to only 2 runs through six before their bats came alive. With six straight singles and 3 runs in the top of seven, Coach decided that was enough and handed the ball over to the veteran "Fly Ball" pitcher who retired the next three batters on and infield popup to the catcher, sacrifice fly to Left Centre and a final pop out to third base.

A bit of a scare for the Falcons in the second inning when the Legend Jerry Tone rifled an opposite field line drive off Coach Cashly, but after some medical attention from team trainer Timmy and a liberal application of duct tape he was able to walk it off and stay in the game.

Game Highlights:

Perfect OBA and 6 total RBIs by BB, TLJT and DK

Post Game Quotes:

Coach: "Maybe getting hit by TLJT's line drive shook me up a bit more than I thought."
TLJT: "Did we win?"
Mike: "What did you do to my chair?"
Cito Gaston (via satelite phone): "A coaching decision that will be remembered for a day or two."
Boxscore:
| Team | 1 | 2 | 3 | 4 | 5 | 6 | 7 | Final |
| --- | --- | --- | --- | --- | --- | --- | --- | --- |
| Coulas Bone Crushers | 0 | 1 | 1 | 0 | 0 | 0 | 4 | 6 |
| Falcons | 0 | 1 | 0 | 10 | 2 | 0 | x | 13 |
Tags: None
Posted on: Tuesday July 12th, 2011 at 9:30PM