Falcons Forum
Falcons Forum
chat_bubble 2022 Falcons' Season Recap, Team Awards
Is it back to normal?
We're almost there, as far as the tiniest of niche culture areas of society that is men's recreational slo-pitch is concerned. We played 32 games, down from the typical 38 game schedule that's been the norm since 2012. Thanks to the post-Victoria Day opening day, there was no late-May/early-June tournament. Will the longer schedule and the tournament return next season? It's all a couple of votes away.
But it sure
FELT
normal, didn't it? Even those of us who became resentful of their own house during the pandemic because we were stuck there get that warm and fuzzy feeling when returning there after getting pulled back to the office/shop floor/postal route (right Brad?). Doubleheader Sundays, and an evening during the week at the ballpark... Kelloryn Park is a second home to a lot of us.
After a pandemic-shortened 24-game season in 2021 in which the Falcons didn't put forth their best effort most nights, 2022 was a turnaround year. The Falcons finished 21-11, good for a .656 winning percentage and home field advantage in the round robin portion of the playoff tournament. It wasn't even close to winning the division, though. Double-digit losses hasn't been a President's Division winning strategy since 2006 when Greenthumb/Woodland (!) won the top side with a 25-10-1 record. The eventual 2022 President's Division champion A's (two in a row!) and runners-up Storm went back and forth at the top of the division all season and left the rest of us in the dust. The last time two teams finished with >.800 winning percentages in the same year was way back in the before-times, 2018 when -- guess who? -- Storm and the A's did it. Is Storm upset that they finished in the #2 spot? Maybe not... more on that later on.
Back to the Falcons, ostensibly the subject of this here blog post. We had a .500 record or better against every team in the league... except the A's. The *expletive * A's swept the Falcons by an average margin of victory of EIGHT runs. The only other two teams the Falcons had negative run differentials against were not-coincidentally the #2 and #3 seeds in the tournament: Storm (-12) and Triple Play (-8). On the other hand, the Falcons swept six teams this season, and they weren't ALL VP teams: Broadway (4-0, +37 run diff), Coulas (2-0, +10), Isotopes (2-0, +18), Surge (2-0, +32 😬), The Buellers (2-0, +13), and The Expos (2-0, +10).
The highs: For the first time in a really long time, the Falcons had a horse in the league home run title race: Rookie Ryan Beatty nearly pulled it off, and would have done it if it weren't for a slow start to the season. His 23 home runs trailed only Triple Play's Jose Rochela's 26. Had Beatty been able to pull it off, he would have been the first Falcon since Goliath in 2011 to win the league title. Million Dollar Bill was also able to attend every game and overtake Iron Mike Murphy for the longest consecutive game attendance streak in team history. New team sponsor Pizzaco kept the boys and their fans fed throughout the season and we're all grateful for being lucky enough to draft the league's tastiest player (tastiest player award is subject to change should Goliath arrive Playoff Saturday morning with a trunk full of pancakes). There were plenty of other in-game highlights, and I encourage you to re-read every recap on the site (even the ones I didn't write) to re-live them.
The lows: Really, the 26-1 spanking we took at the hands of Storm was the low point of the season. But we're not going to talk about Bruno.
AWARDS SECTION
Here are your Falcons Regular Season statistical leaders:
ATTENDANCE AWARD:
Every year, we seem to have at least two people who attend every game. But fittingly, in the year in which he broke the iron-man streak, Million Dollar Bill was the only Falcon to be at every game. (Conversely: Where for art thou, Miner Leaguer?)
RUNS SCORED:
Rookie Beatty narrowly won here, scoring 60 runs. He was only beat the ageless Barry Guerrero Jr by one, who only beat lead-off hitter Cowboy by one.
1B:
Million Dollar Bill lived at first base, hitting 57 singles.
2B:
Grahambo, when he wasn't jacking solo jobs, hit 19 doubles to lead the team.
3B:
A tie here between a Falcon you'd expect (Cowboy), and one maybe you wouldn't: Dunner. They both hit 9 three-baggers.
HR:
As noted above, Beatty destroyed the field here, rocking 23 bombs. No one else even had 10.
BB:
There's a reason Barry Guerrero Jr is the team's all-time leader in walks. I'm sure Curtis will attest to his dad's patience LOL... Barry once again led the team, getting on
nine times
via the free pass.
TOTAL BASES:
Surprise! Beatty with 158 total bases.
BATTING AVERAGE:
Dunner, at .748 led the team in batting average. Goliath missed the necessary 77 PA by 11 to qualify.
ON BASE PERCENTAGE:
Thanks to his
nine walks
, Barry Guerrero was on base more often than anyone. His .727 OBP was tops.
SLUGGING PERCENTAGE:
Beatty beat the next highest challenger by almost 300 points to win with 1.580
ON BASE + SLUGGING (OPS):
Spoiler alert: Beatty at 2.294
RUNS BATTED IN:
Flash wins here -- KIDDING! -- Beatty had 79 RBI, and also had more RBI than hits.
ANYTHING CAN HAPPEN IN THE PLAYOFFS
Are Storm super upset they didn't win the President's division? Yeah, they lost out on the $300 cheque that goes with it. But as the #2 seed, their pool will consist of themselves, Coulas and The Expos. The division champion A's on the other hand, get Surge and... Hanet. Yes, Hanet defaulted 21% of their games this year, more than usual. That never matters to Hanet. Come playoff time, the team shows up and rakes. They don't always win it all (they're defending champions though), but they're always a tough out. Hot take prediction: The Expos AND Isotopes play Sunday, and at least one non-Broadway President's Division team doesn't.
FALCONS' MOST VALUABLE PLAYER
If you're a Falcons rookie, and you lead the team in home runs, you win the team MVP. It's totally a thing, right
Poutine
? Beatty was the runaway winner, garnering a majority of the votes.
FALCONS' MOST SPORTSMANLIKE PLAYER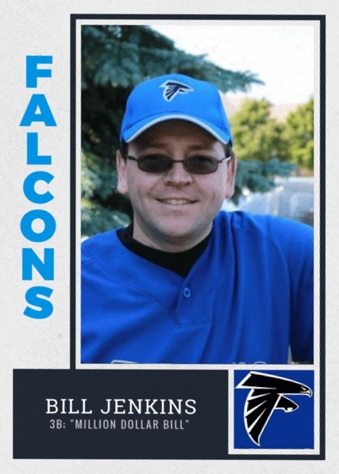 For the
fourth
straight
year
, Million Dollar Bill, refresher of Falcons and Falcon fans, is the team's most sportsmanlike player. Can he keep up his consecutive games streak and win this award for a fifth-straight time in 2023?