Our Next Games
Next Season
| | |
| --- | --- |
| Time: | - |
| Opponent: | - |
| Diamond: | - |
| Water Boy: | - |
| Weather: | |
2019 WMSPL Playoff Champions!
Read the WMSPL's MOST RESPECTED Power Rankings column! (just ask the other teams)
The Falcons won the Playoff Tournament in 2019. Do they have what it takes to repeat in 2020?
Follow along to see if anyone can beat retired "Iron" Mike Murphy's consecutive game streak, or Rookie sensation Leon's record pizza fines!
Two Home Runs In One Inning Watch: The last time a Falcon hit two home runs in one inning was June 14, 2019.
Two Triples In One Inning Watch: The last time a Falcon hit two triples in one inning was June 11, 2019.
Free Beer Watch: It's been since August 18, 2019.
Be sure to check out our Hall of Fame page and re-live past Falcons glory days in our Accolades page.
Click here to View League Standings

>
Falcons News
notification_important 2019 Falcons - Playoff Champions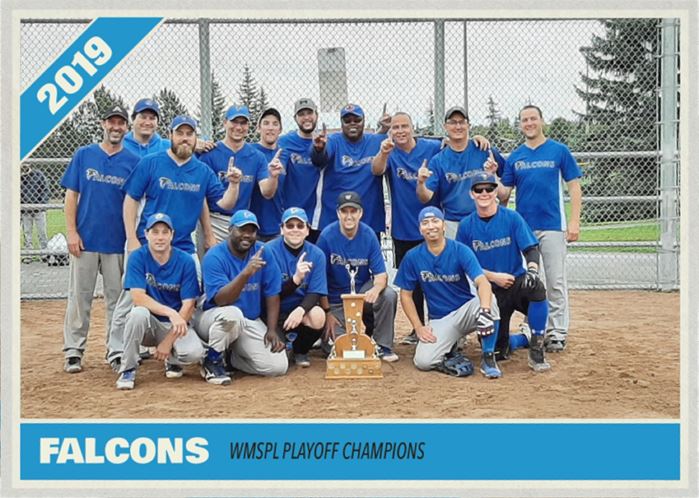 Back Row (L-R): Mike "Poutine" Labrecque, Colin "Levi" Deyong, Jeff "Band Camp" Mathewson, Jeremy "SLF" Staszak, Chad "Miner Leaguer" Gillis, Jon "Hobo" Paquin, Rich "Big Cat" Minott, Sean "Dunner" Dunn, Graham "Grahambo" Duncan, Steve "Cowboy" Bennett.

Bottom Row (L-R): Steve "Dance Dad" Tulk, David "Goliath" Carter, Bill "Million Dollar Bill" Jenkins, Ashley "Teets" Teeter, Tiffany "The Hardware", Jerome "Dr J" Valero, Matt "The Mattural" Geuzebroek.
Tags:
champs
Posted on: Saturday September 21st, 2019 at 9:58AM